---
Delivery to your door
Trade-in of old machines
Europe-wide warranty
Individual purchasing support
Sell more farm machinery online with E-FARM
The No. 1 solution for dealers
Are you a dealer and having trouble re-selling used farm machinery, especially from other brands? Do you shy away from selling outside of your local range, let alone across country borders? Would you like to focus on selling new machinery without having to spend too much time selling traded-in used machines?
E-FARM is your solution!
Selling with E-FARM means:
Access to thousands of potential buyers in 20+ European countries
Zero hassle with our all-inclusive service and exclusive app, SmartTrade
High-quality machine requests for better selling opportunities
Personal support, marketing, and translation services at no additional costs
Eggers Landmaschinen, Raiffeisen Technic Grasdorf and more than 1,100 other partner dealers from Germany, France and beyond already enjoy the E-FARM selling service.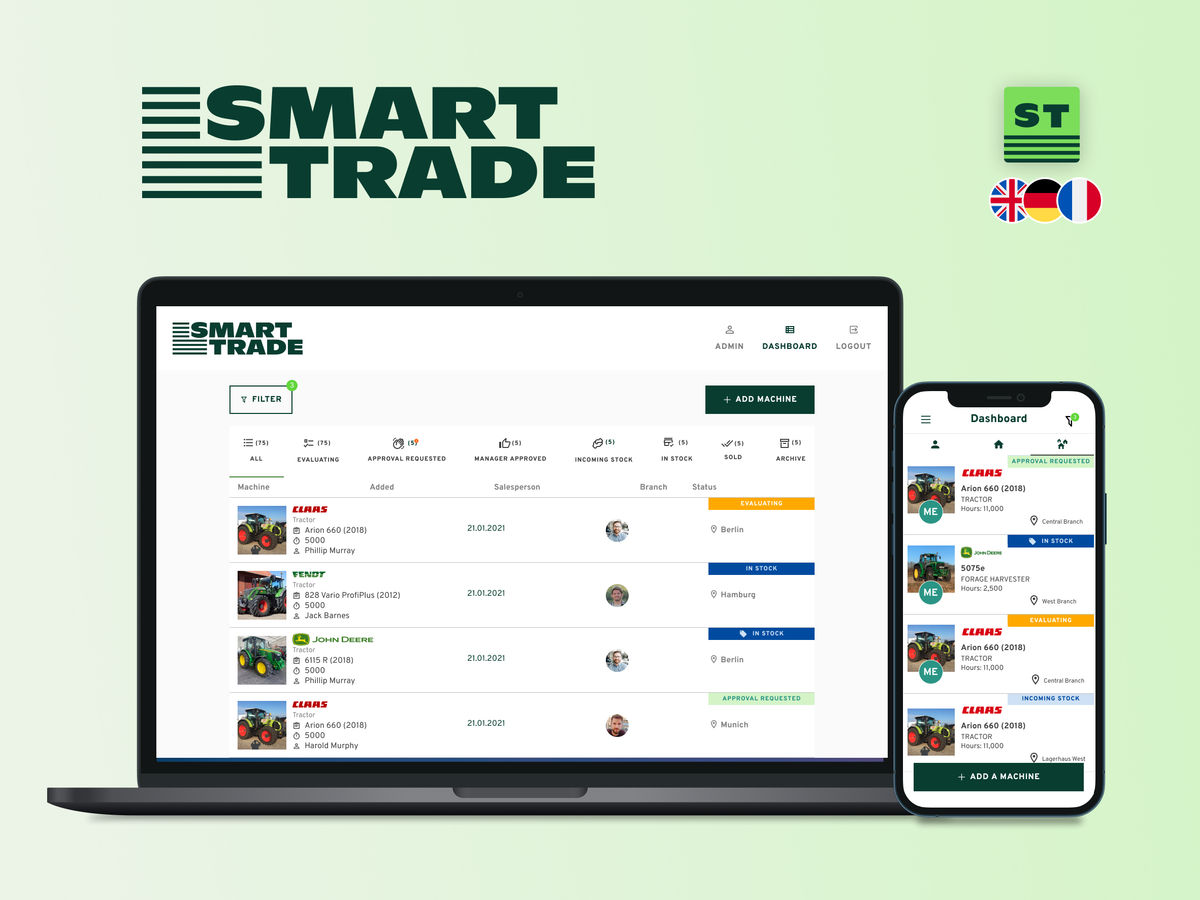 SmartTrade: The smarter system for your trade-ins
Auto-fill machine data just by entering the VIN
Instant price estimation based on machine specifications
Integrated photo guide for collecting the perfect pictures to make your ads more attractive
Remarket your agricultural machines all over Europe with one click
Stock management – one place to track the trade-in process and manage used inventory
We speak 20+ languages
Sell internationally without growing your team. E-FARM will do all communication for you and build trust in markets you usually cannot enter.
We know the market
1,100 partner dealers, thousands of satisfied customers, and profound industry insights: We know how to sell used farm machinery online at the best prices.
We love Marketing
Find your machines promoted on our website, social media channels, in newsletters and portals Europewide - without having to pay anything.
Sounds interesting?
+49 160 980 584 45
Alex Renaud