---
Delivery to your door
Trade-in of old machines
Europe-wide warranty
Individual purchasing support
Used New Holland combines
In addition to its extensive range of tractors, US-based New Holland is also among the market leaders in the conventional and rotary combine harvester segments. The Italian brand with American roots manufactures combines to suit every farmer's needs, from massive rotary machines like the CR10.90 to the relatively compact TC4.90.
New Holland combine harvesters also feature an impressive range of pioneering technologies. Newer models come fitted with ECO Blue Hi-SCR Stage V technology, which is now standard across most New Holland machinery. It also complies with strict emissions regulations while cutting fuel consumption.
When it comes to combine-specific innovations, New Holland's Ultra-Flow staggered drum provides enhanced threshing, lower fuel consumption and a 10% increase in capacity compared to previous models. Its Opti-Speed system automatically adjusts straw walker speed to crop conditions and gradients for optimal efficiency. Equally, Opti-Clean and Opti-Fan technologies deliver superior grain quality and consistency.
Additionally, New Holland's Harvest Suite cab (available in Ultra and Comfort versions) provides a spacious, ergonomic working environment and extensive lighting options to facilitate 24-hour harvesting.
New Holland's combine series
New Holland offers different series of combines aimed at the pure rotary and conventional segments. Here's an overview of the current NH combine series:
• TC Series (up to 258 hp): These conventional combines are ideal for small to medium-scale cereal harvesting, with capacity for up to 6,400 litres of grain and either four or five straw walkers for optimal productivity. Ease of operation and adjustable, ergonomic controls make them a pleasure to use.
• CX Series (up to 460 hp): The CX8 is the largest conventional combine in the NH portfolio, with a grain capacity of up to 11,500 litres. By contrast, the CX5 and CX6 models are geared towards versatility, with easily configurable settings for different crops, conditions and terrains.
• CH Series (up to 374 hp): The new CH series – the successor to the popular TF series – seeks to strike a balance between rotary and conventional combines. It features advanced rotary separation technology with an efficient threshing drum found in conventional models. These versatile models are equally at home harvesting all crops on all terrains.
• CR Series (up to 700 hp): The FPT Industrial engines in this series vary from 415 hp to 700 hp to tackle the most challenging and intensive harvesting operations. These pure rotary combines come with the IntelliSense automation system to maximise throughput and rotary valves that allow remote adjustment for changes in crop conditions. Last-generation models, such as the CR 9080 , offer excellent value for a high-performance rotary combine.
Discontinued series of New Holland combines, such as the TX series, still offer tremendous value as used models thanks to their trademark reliability and robust design.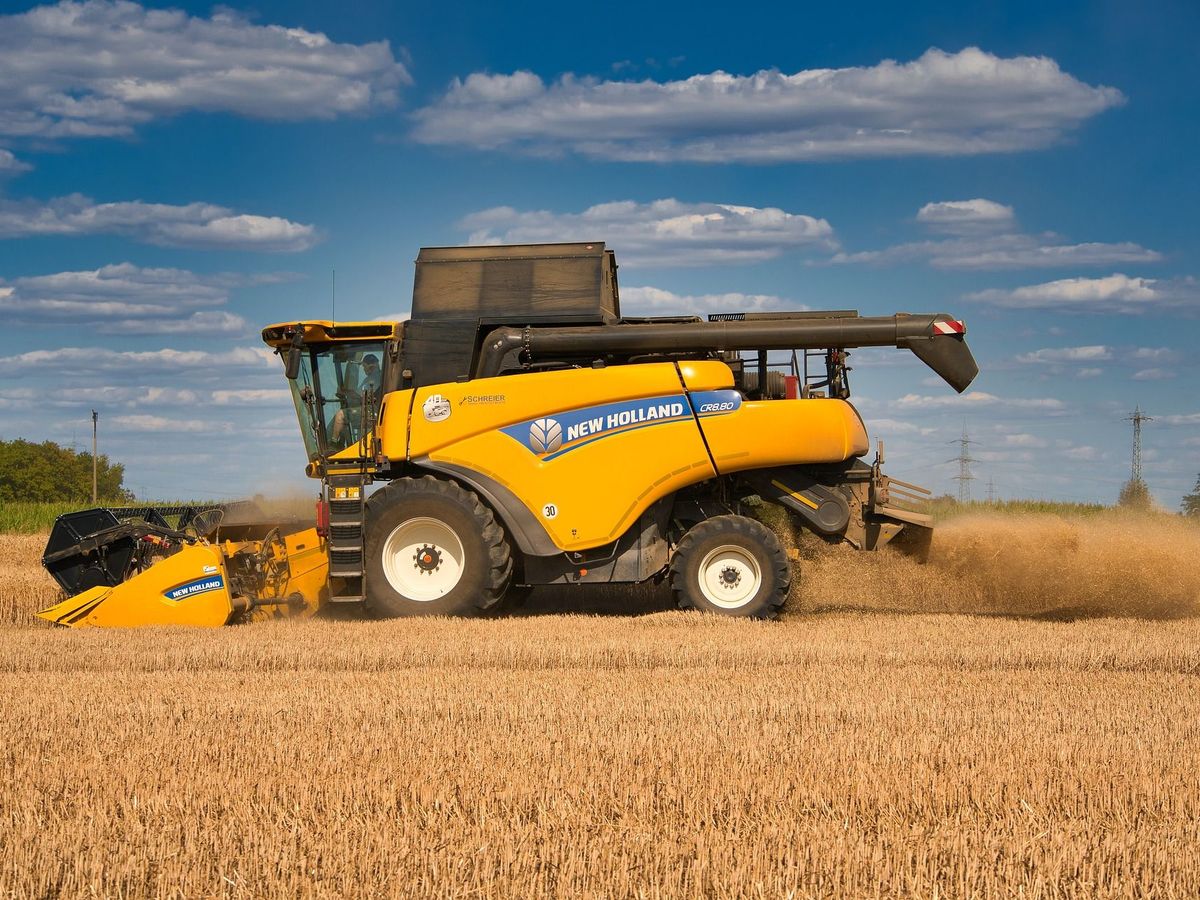 Buying used New Holland combines
At E-FARM, we have an extensive range of used New Holland combine harvesters for sale, from near-new models to older versions available at competitive prices. If you have any questions about these machines or any other part of the buying process, our team of multilingual specialists can help.