---
Delivery to your door
Trade-in of old machines
Europe-wide warranty
Individual purchasing support
John Deere 6215R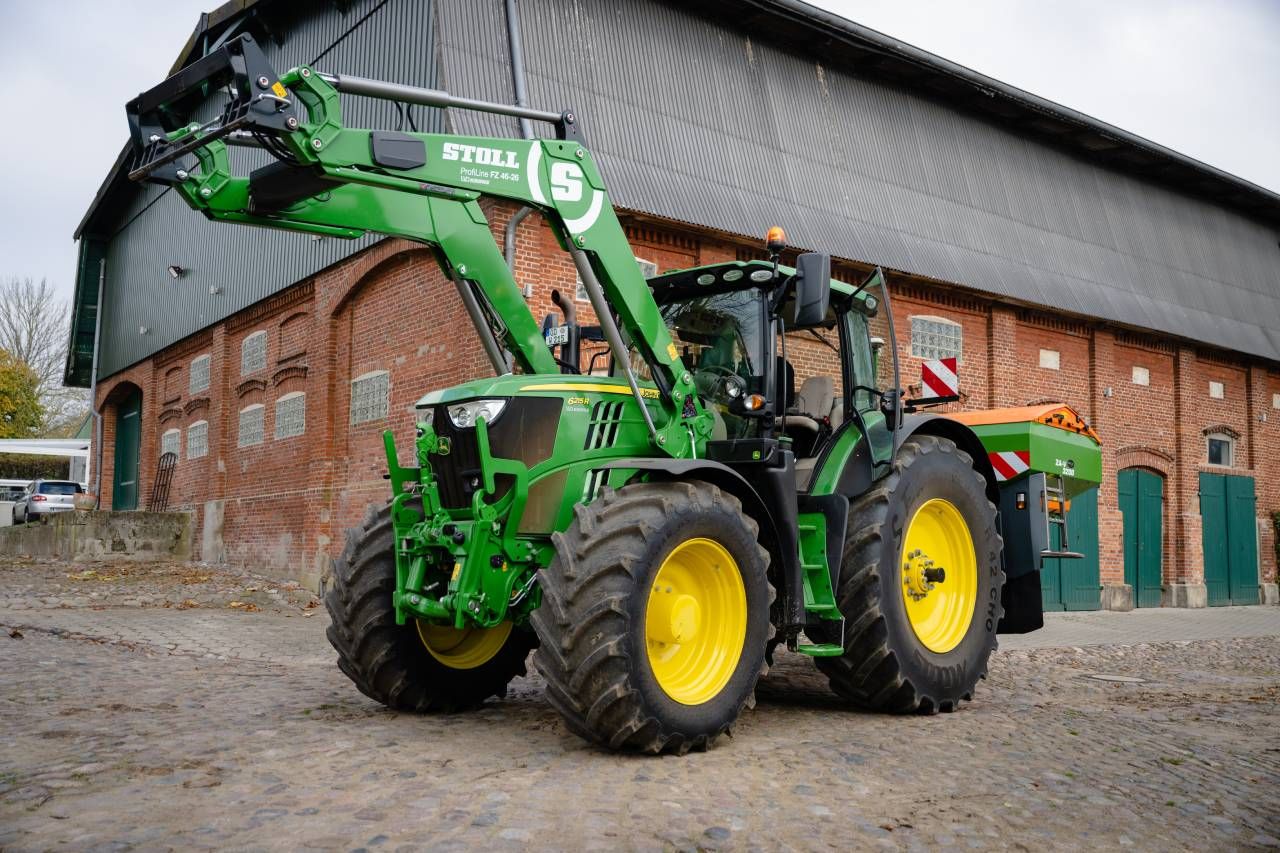 The John Deere 6215R is a row-crop tractor launched by the American agricultural giant back in 2015. Like other models in the 6R series, versatility is a central focus of its design. This large-frame model combines a powerful engine with a relatively lightweight frame to provide impressive power and outstanding fuel efficiency.
It features a John Deere 6.8-litre, six-cylinder diesel engine with a rated output of 215 hp (up to a maximum of 259 hp with ICM boost). The JD 6215R is well suited to transport operations due to its top speed of 50 kph and is very fuel-efficient. In 2020, the Lower Saxony Chamber of Agriculture crowned the JD 6215R the winner of its tractor transport testing, with fuel consumption of just 19.2 l/hour.
The John Deere 6215R tractor is available with a choice of AutoQuad Plus, AutoQuad Plus EcoShift, DirectDrive and AutoPower transmissions. The standard model includes hydrostatic steering; variable-ratio steering is available as an optional extra. A rear three-point hitch is fitted as standard, with a front three-point hitch also available upon request. These choices allow farmers to tailor their JD 6215R to their preferences and requirements.
Inside the exceptionally spacious ComfortView cab, the panoramic doors provide an unobstructed view of the tractor's surroundings, while the adaptive hydraulic suspension ensures a smooth and comfortable ride. The CommandCenter clearly displays key vehicle information and, with the noise level limited to just 71 dB(A) in operation, there are few more comfortable places to spend a day in the fields.
Features and specifications
The John Deere 6215R combines exceptional power for a mid-horsepower row-crop tractor with impressive manoeuvrability thanks to its modest wheelbase. It can be fitted with an array of optional extras, from Premium and Ultimate lights packages for night-time productivity to intelligent automation functions and an upgraded seat backrest.
Standard specifications of the JD 6215R include:
• Engine: John Deere PowerTech PVS 6.8-litre, six-cylinder, diesel
• Engine power: 215 hp (up to 259 hp with IPM boost)
• Transmission: AutoQuad Plus / AutoQuad Plus EcoShift / DirectDrive / AutoPowr
• Max. lift capacity (at hooks): 9550 kg (rear, standard) / 4000 kg (front, optional)
• Wheelbase: 280 cm
• Weight: 8800 kg
Used John Deere 6215R for sale
Its versatility, power and fuel efficiency place the John Deere 6215R price point higher than some of its competitors. Considering a used John Deere 6215R is a smart way to secure a high-performance tractor from a renowned manufacturer at a more affordable cost.
We have an extensive range of John Deere 6215R for sale from our extensive dealer network. If you want to find out more about independent quality checks or the process of buying a used tractor online, contact our multilingual team of agricultural experts.